S
orry, I'm a week late on this post, but I've great excuses!
Last Saturday the Irish National Mountain bike Championship took place
at Dunmore Mountain just outside Spa in County Down, Northern Ireland (hosted by Dromara CC). After all the messing about this year with the injury, it was nice to know I was going to make this one! Myself and Gene left about 9.30am and about 2 hours later (30 minutes of which was wondering about the back roads of Co. Down, we found the event.
The weather was holding up nicely when we arrived, but the forecast in the week leading up was not good at all, and knowing that a lot of the lap would be on grass with serious climbs I invested in a Hutchinson Python for the front and a Toro on the back, thinking I'd be up to my eyeballs in muck. And while it did rain during the week, the course was - apart from the odd section - bone dry. Luckily I messed up the order a bit though - the Python is more for dryer trails, and the Toro, while being a knobbly mud tyre, has very little rolling resistence.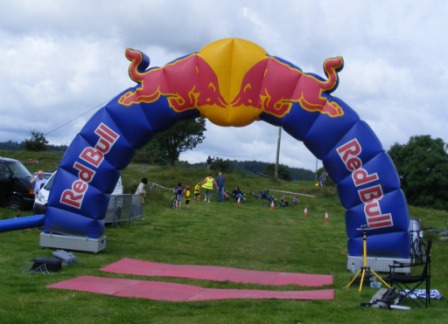 So, once all the tyre choice faffing around was done, we got signed up and snuck out just ahead of the sports race to get a quick pre-ride in. The lap started in an open field and worked its way downhill into a rough singletrack section. After that it's a blur of kicker's, technical singletrack, swoopy descents and monster climbs! But I liked it - in a sadistic way!
So the race kicked off and it was a blast down the field. It was not one of my better starts, but I did what I could. As we began climbing I started to pick of positions, and found myself (again) behind Paddy Daly. I stuck with him for the first lap and into the second before he pulled away. I then had a tussle on the 3rd lap with another fella before he dropped off slightly - only to come back in a big way on lap 4 and pass me easily. While I did not feel totally drained, I was not doing the lap times I thought I should have been. To make it worse I totally had in my head it was a 4 lap race (well I wanted to believe that I guess) even though I was told it would be 5! So it was a shock to the system to do one more. At this stage I knew I was in the top 10 somewhere and just decided to bring it home :)
However, coming towards the end of the lap, I got passed by Epic's Rory Walsh, who was sitting on the back wheel of Ryan Sherlock! They passed me at speed and there was no way I could muster up the power to chase, so I had to let that position go. So, I crossed the line in 9th place and I'm happy enough with that. I don't think I could have done any better on the day, and a top 10 finish in the Nationals is nice to have given the year its been.